The situation in Belarus and challenges for civic education
Belarus is a country in the center of Europe. Geographically. But as for political geography, more questions than answers arise now and not only in Europe.
How did it happen that thousands of Belarusians, kept silent for 26 years, went on demonstrations from the beginning of August until now? Is Covid 19 the reason for it or should we immerse deeper into history, psychology, sociology and analysis of political events in recent decades? Why do people go out to demonstrate every weekend? Is it a capital city phenomenon or a (social) regularity? Many questions we'll try to answer with the speakers from Belarus.
The task of citizenship education is inter alia to translate complex topics into an understandable, public language and present them in all existing – even contradicting – angles.
Citizenship education is quick and empathetic. It can adapt to new realities, or it can shape these realities by itself. We'll try to define the role of civic education in Belarus today and under different future scenarios of the country's development too, with our speakers and you.
On Monday 5 October we will hear the views of Prof. Uladzimir Yanchuk, Dr. Tatsiana Vadalazhskaya (Flying University) and Dr. Aksana Shelest (Center for European Transformation).
The conversation will be led by prof. Yuriy Petrushenko (Ukraine), Member of the Coordination Council of the East European Network of Citizenship Education EENCE (www.eence.eu).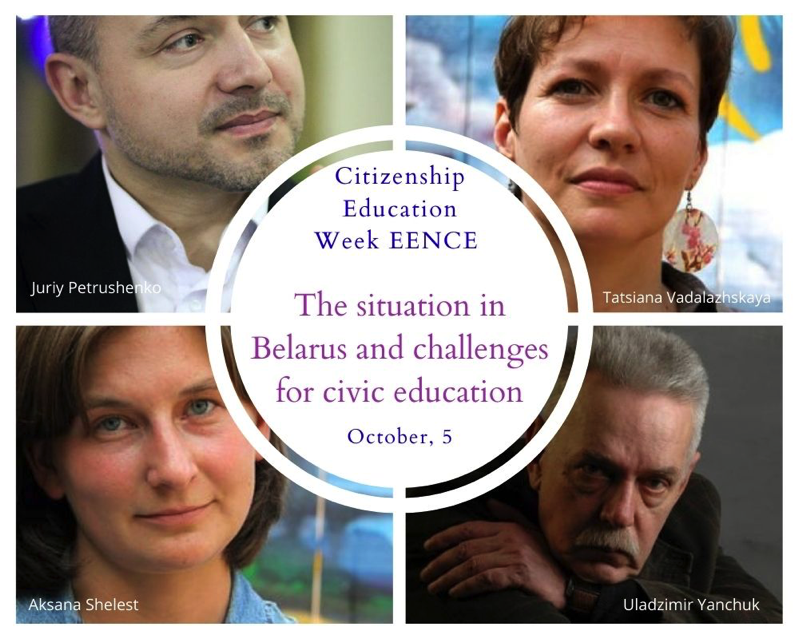 The meeting is held online (ZOOM) in Russian with simultaneous translation into English
Live Stream: www.bpbconnect.eu
To participate in the discussion, follow the link